Join Alpian
Join a team where empowerment, growth and impact are the forefront of everything we do.
Everything you need to know
At Alpian, we believe in fostering a culture of inspiration, not desperation. Our commitment to learning and growth, collaboration and respect creates a work environment where everyone feels valued and inspired to do their best work.
Humility
We acknowledge that we don't know everything and that we can learn from others. At Alpian, we foster a culture of openness, collaboration and continuous learning. We listen to other's perspectives, admit mistakes and seek feedback. Our employees do not only rely on their individual results but consider the interests of others and the broader impact of their actions to make better decisions and innovate.


Ownership
We are a company of owners. Owners take results personally. And owners do what is right for the company. Every Alpianist is expected to embody the company values and embrace the culture as their own. This is the only way to realize cultural benefits and maintain the performance advantages from increased employee engagement. To develop an ownership mentality, we rally around our shared vision and values and give each employee the biggest amount of autonomy, empowerment and trust in their roles.


Teamwork
At Alpian we build a cohesive and successful organization. We aim to achieve more than any one person could alone. Our people can leverage each other's strengths, skills, and knowledge to achieve better results. This creates a culture of trust, mutual respect and shared accountability, where everyone is working towards the same goal.


Integrity
We never - ever - ever - ever take shortcuts. Integrity, hard work, authenticity, quality and accountability are key building blocks to our business. We are always respectful but straight forward, honest and candid with each other to find the best path and solution to every challenge that arises. Integrity is our constant ally and companion.


Leadership
Walk the talk. To lead by example is at the core of our culture. We do what we say we will do. Nothing undermines a culture faster than those who do not practice what they preach - especially at the leadership level. This list of these core principles is only worth the paper it's printed on if we don't take it upon ourselves to be an example to others
At Alpian, we believe in fostering a culture of respect and inclusiveness. Diversity and inclusiveness are critical to our success, we are committed to creating a work environment that is welcoming and inclusive for everyone. To support our commitment to diversity and inclusiveness, we have a number of initiatives in place. These include employee resource groups, unconscious bias training, and a diversity and inclusion task force. We believe that diversity of thought and experience is essential for driving innovation and creativity. That's why we are committed to creating a hiring process that is fair, transparent, and inclusive for all candidates. At Alpian, we are committed to creating a work environment that is inclusive and respectful for everyone. This is not just a priority for us, it's a core value that guides our actions every day. Diversity and inclusiveness make us stronger and more innovative, and we are proud to be a company that values these principles.
Competitive salary and outstanding insurance conditions (2nd pillar, gain loss, private division hospitalization in all Switzerland)
Free financial analysis and investment advice
Premium Alpian bank account opening and fee-less account management
Hybrid work (40% WFH)
3 attractive and modern working locations (Geneva, Zurich, Lausanne) with a company restaurant
Fitness room / Game room
Vouchers for employees (Swibeco Partner)
Unlimited mobile pack in Europe
Current job openings
Explore a world of opportunity at Alpian and find a role that aligns with your passions and skills.
Laura Gasser
VP of People & Culture
A message from HR
Welcome to Alpian ! I am delighted to invite talented individuals to explore career opportunities available within our dynamic and innovative organization. Pioneer in the private banking digitalization, we offer exciting career paths spanning a wide range of disciplines. Our commitment to excellence means that we are constantly looking for talented individuals who share our vision and values and who are eager to make a meaningful contribution to our organization. Joining Alpian means joining a team of driven and innovative professionals eager to make a positive impact on the world. If you are looking for a purpose beyond a job, we want to hear from you!
"
Alpian gave me the opportunity to expand my banking knowledge and to be working with a great team.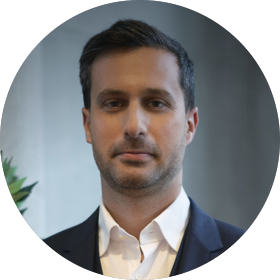 Alpian Employee